Heavy‑Duty
Towing Service
We are a full‑service towing company, including heavy and medium-duty tows and recoveries! Covering greater Phoenix and surrounding areas with professional service. Freeway Towing and Storage is committed to being fast, reliable, and respectful on every job. We're located in Central Phoenix, with easy access to all major freeways including, Interstate 17, Highway 51, loop 202, loop 101, loop 303, Us 60 and many more. We understand how important your business is, and we treat your business just like it was our own. Accidents can happen at any time, which is why we operate 24/7/365. Whether you need a tow or experienced an accident, we are here to help.
Our specialty and primary focus is medium and heavy‑duty towing and recovery, including:
Semi‑Truck Towing Service
We provide semi truck towing on all of the major highways and interstates in Arizona. We provide Semi truck towing service on Interstate 10, US 60, Loop 101, Loop 202, Loop 303 and more. We pride ourselves in rapid response time with the proper equipment to do the job quickly and safely every time. We will explain the two major types of towing equipment commonly used for heavy‑duty semi‑truck towing, also known as tractor towing.
Flatbed trailer towing is often used when one or many of the tires and or axles on a semi‑truck, box truck, trailer, RV, 5th wheel or motorhome are compromised. This type of towing is much more like your typical light‑duty flatbed towing service, just on a much larger scale. We use a 50' sliding axel trailer that sits very low to the ground to transport everything from semi trucks, Tractor Trailers, containers, heavy equipment and more. 
When all wheels and axles on the truck are in good condition, standard heavy towing can be used. This type of towing is commonly done from the rear axle. In the event that there is no room to pick up the tractor from behind, or if it is pulling a trailer, then we will pick up the semi-truck from the front axle and remove the drive line. We can tow semi trucks, box trucks, work trucks, class A Rv, class B RV, dump trucks, cement trucks and more. Call for heavy duty towing quote. 
Like towing a tractor, a loaded or unloaded box truck can be towed from the front or the rear axle. Just like with towing a semi-truck, if we pick up the truck from the front end, we will have to drop the drive line in order to protect the transmission from being burned out during transport. Towing a box truck with a heavy flatbed trailer with sliding axles can be used when there are compromised wheels, tires, or axles.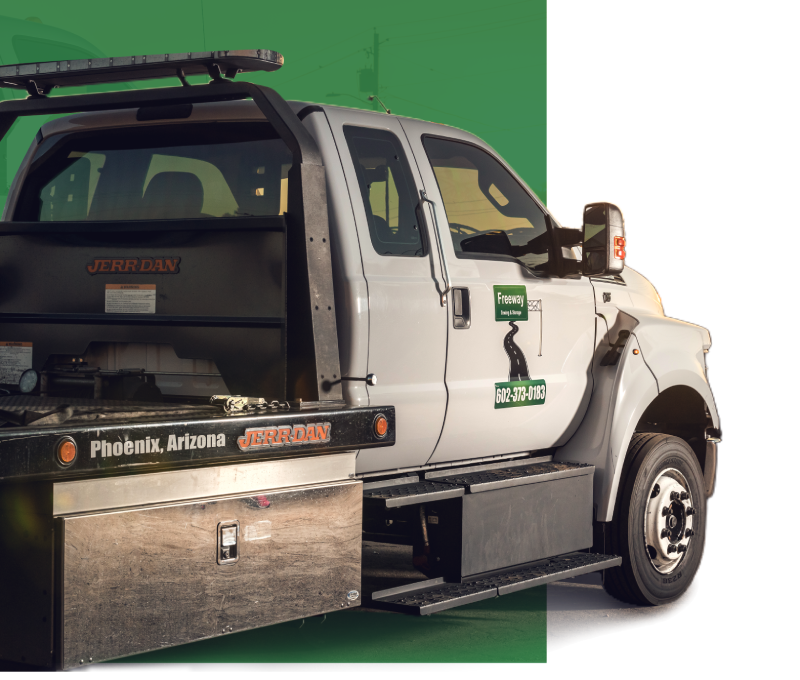 Providing fast and affordable towing service is our number one priority. Utilizing the latest technology in the industry allows us to provide some of the shortest wait times and lowest towing service rates in the State. For a free towing quote please give us a call (602) 377-0036.
You can also reference our towing prices listed below. All towing services have a base price (hook fee) starting at $95. To calculate the total cost of the tow take the number of loaded miles and multiply it by $6. Rates may vary slightly depending upon the condition of the vehicle, as well as if the keys for the vehicle will be present at pickup.