Emergency Roadside Assistance Services in
Phoenix, Arizona
Do you frequently drive in or around Phoenix, Arizona? For emergency roadside assistance services when you need them most, contact Freeway Towing and Storage. We are a locally owned and ‑operated 24‑hour towing business that is here to help you.
When you have a roadside emergency and require assistance, give the professionals a call.
Emergency Roadside Assistance
Nobody knows exactly when their vehicle is going to break down. Unfortunately, a breakdown can happen when most companies close down for the night. We don't want anyone to get stuck when their vehicle breaks down. That is why we offer superior towing and emergency assistance at all times of the day.
Some of the services you can rely on are:
24‑Hour Towing Services in Phoenix, Arizona
When you are looking for fast and efficient 24‑hour towing services in Phoenix, Arizona, turn to Freeway Towing and Storage. No matter if you need heavy and medium‑duty tows and recoveries, we can help you. We are licensed, certified, and highly experienced in the towing business. Whenever you need towing services, you can count on us.
We understand how stressful breaking down in the middle of the night can be. No matter if you drive haul, or have a medium to small‑sized vehicle you need to be towed, we are here for you. Whether it is early in the morning, late at night, or during standard working hours, our team is always ready to help you out in your time of need.
Our family‑owned and ‑operated business began out of a deep dedication to customer service. We don't want you to feel like you are alone when you break down. We are here for you whenever you need us, day or night.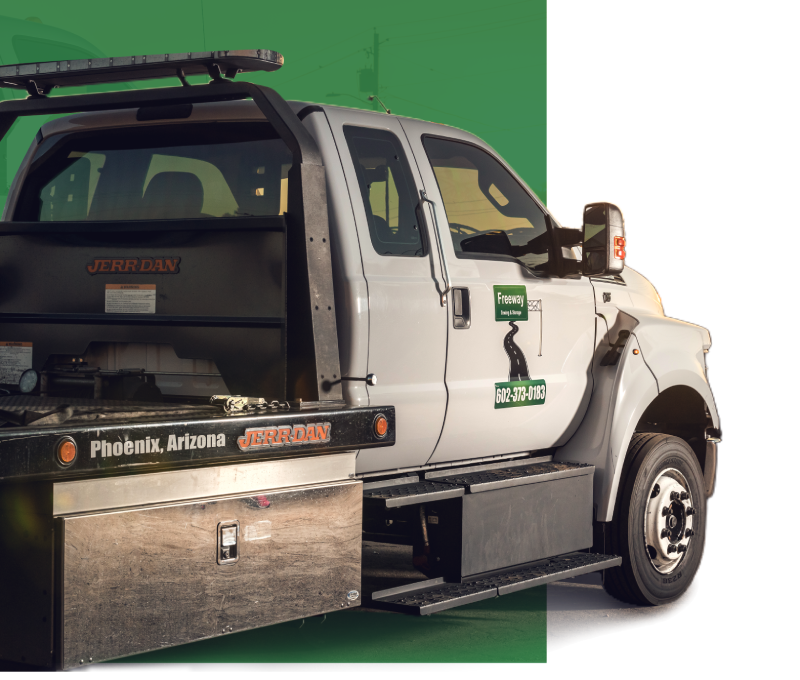 Providing fast and affordable towing service is our number one priority. Utilizing the latest technology in the industry allows us to provide some of the shortest wait times and lowest towing service rates in the State. For a free towing quote please give us a call (602) 377-0036.
You can also reference our towing prices listed below. All towing services have a base price (hook fee) starting at $95. To calculate the total cost of the tow take the number of loaded miles and multiply it by $6. Rates may vary slightly depending upon the condition of the vehicle, as well as if the keys for the vehicle will be present at pickup.